When working with Citrix products you want to be sure your configuration is correct, or want to troubleshoot why you have a problem. Citrix developed the Citrix Auto Support formerly known as Citrix Tools as a Services (TaaS). You can can make a health check for XenServer, XenApp, XenDesktop and Netscaler and citrix will add other products later.
When you need to troubleshoot or perform a health check for XenApp or XenDesktop you need the Citrix Scout tool to create the log files. http://support.citrix.com/article/CTX130147 You have to enable WinRM before you can create the CDF trace of remote servers, look at : http://www.vdnieuwenhof.nl/knowledge-base/enable-winrm-for-windows-remote-shell/
When you need to troubleshoot your XenServer environment you need to create a Server Status Report using the XenCenter console.
After you created the reports you need to upload them to the Citrix Auto Support site (http://taas.citrix.com), you will need to have a MyCitrix account for this which you can create at the Citrix site.
The upload process is a peace of cake, just login to the Auto Support site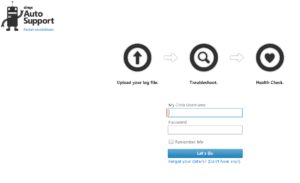 After you loged in you will see your Workspace, here you can see your latest uploads and there results, which you can move to the Archive when you don't need them anymore. Continue reading "Citrix Auto Support" →